Harald Lemke collaborating with Anja Bischoff
Saturday, 5 pm Workshop »Waste Cooking«, starting 8 pm Happening »Müllmahl«
11 June 5 pm Showcase
Collecting waste, cooking waste, eating waste. Lemke and Bischoff are serving: leftovers. Discarded food can be seen as the epitome of our fast-food era. What a different world of eating would like is being made visible and palatable by the »Müllmähler« (meals of waste). Our food is actually the most ideal of all circulatory systems: From the seed on the fields, via agriculture to the kitchens and (even) the toilets, right back to the compost and again onto the fields.
For several years now, the wastage of food on a global scale has gained attention in society. Throwing away food that would actually still be edible is a drastic example for, and the ultimate expression of the scandalous waste production of our fast-food society. The »Müllmähler« deal with precisely this issue. The happening itself is made up of several components: With the help of the Hamburg Foodsharing Initiative, a temporary storage space for saved food is created in the project base container. Additionally, »Waste Cooking« actions and workshops in cooperation with the artist and inventor of Foodshariment, Anja Bischoff, are taking place. Whatever is available is artfully prepared and arranged. And last but not least, the guests may look forward to the upcycled meals. These »Müllmähler« bring together two forces generally underestimated in everyday life: the circulatory system of human nutrition with the natural resources and the daily production of elementary life energy contained in good food.
»The Müllmähler project aims to transform the waste logics of the prevailing food system: into practical solution strategies and gastrosophical alternatives, such as the non-disposal of food and the conscious separation of residual waste and bio waste. Provided that our daily food comes from a consistently sustainable production, we are capable of changing the food consumption process into a waste-free circulatory system and thus revalue it to become an everyday practice suited for our future.«
Wastecooking und Mühlmähler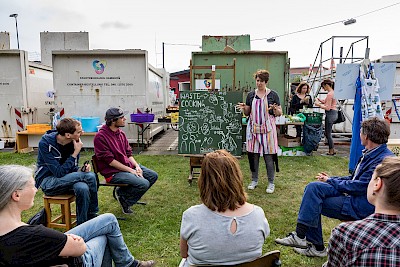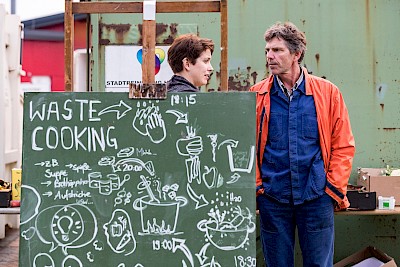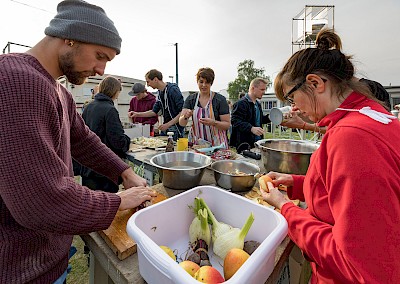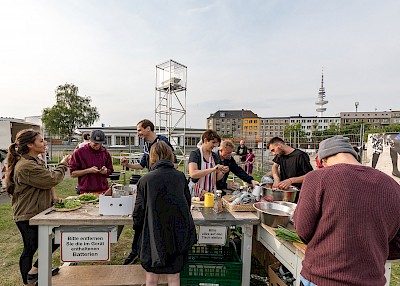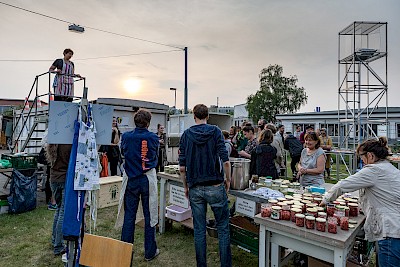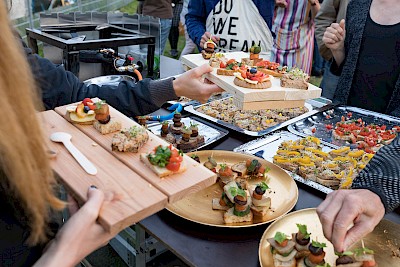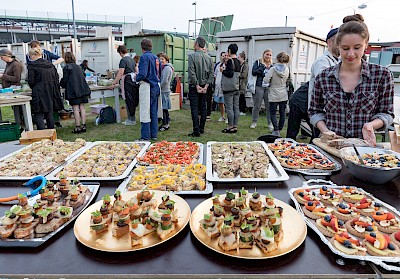 Werkschau
    
Harald Lemke — Hamburg
is a philosopher, curator and the director of »Internationales Forum Gastrosophie«. He has published numerous books and philosophical writings on ethics, politics, aesthetics and culture. The focus of his work lies on subjects like utopian visions of a good life, theories of action and forms of sustainability practicable in everyday life. Performative-interventionistic projects also constitute an integral part of his way of philosophizing. He lives in Hamburg.
Anja Bischoff — Hamburg
is an artist exploring the way we deal with food through cooking. She has invented the participatory format »foodshariment – experimental cooking« that playfully reflects upon the excess of food, its qualities and possible combinations and functions, with the aim of attaining the best possible food consumption. Bischoff is an activist and ambassador of the initiative »Foodsharing against Food Wastage« and works as a teacher at one of Hamburg's district schools. 
www.haraldlemke.de
www.gastrosophie.net